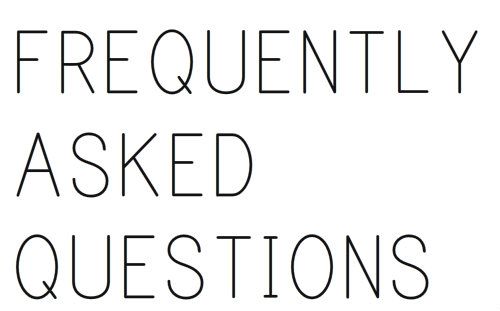 Who are you? Where do you live?
I'm Zandi, and I live in Chicago. For the full rundown on me, my little apartment, and my boston terrier Lucille Austero,
check out the About Me page
.
Where does your blog name come from?
From the amazing women of
Bikini Kill
.
I have a product or a website your readers would probably love, can you feature it for me?
Sure, let's chat. If I love your stuff, and think the people who read this would too, it would be cool to get that out there. For more information about appearing on
r/p
,
click here
.
Are you married? Do you have kids?
Nope, not married, and nope, this isn't a mommy blog. However, it is an obsessive aunt blog, as you'll occasionally see DIYs for
my twin niece and nephew, Calvin and Olivia
.
Are you Mormon?
I always thought it was funny when I would see this question on other FAQs, and now I see that people actually ask it. I am not Mormon, and if I was, the amount of profanity and alcohol consumption in this blog would make me a bad one at that. They may not have the presidency, but man do they have the blogosphere on lock.
Speaking of, do you have to swear so much?
This is my absolute favorite question that has ever come through this blog (and it comes through more than any other question), so thank you to those of you pearl-clutchers who have asked this. I like to write like I speak, just because those are my favorite kinds of blogs to read, and it turns out my speech is a bit foul. I don't think this blog has much of interest to children (unless you know any fifth graders that really enjoy going to garage sales and buying vintage chairs, in which case that kid is awesome and go make it into the next Tavi), so for the audience I think we're all right.
How did you grow a readership for your blog in a short period of time?
Admittedly, a lot of the good fortune that has come to this blog is through a series of really lucky breaks and wonderfully loyal readers. However, to get to that point, I cannot emphasize social media enough. I think that developing a voice is important, and not trying to just mimic your favorite blog. Also, everyone loves a blog that posts regularly, but since we aren't full time bloggers, just post as much as you can! Once you've got those two things down, make a Facebook page. Then make a Pinterest and pin a few images from your posts, and give them great descriptions. If you find other blogs you like, say hi! Look for other small blogs you admire, its not necessarily about using them to get exposure, but its nice to create yourself a little network, and it will come in handy for both of you down the road!
I am stumped on a gift to buy/how to solve a design or craft problem/what to do with my new room or apartment, can I ask you?
Absolutely dude. If you have any questions you need help solving, I'd be happy to take a crack at it with you! Just
shoot me an email
or comment on the
Facebook page
.
What do you do for a day job?
I work for a really awesome early education non-profit.
Do all of your projects always turn out so impeccably perfect, as though crafted by skilled artisans?
Okay, the original question was if I ever get frustrated when projects do not turn out or go as planned. This happens to me on almost every project. I'll have to rip out a seam, or try and fix a paint fuckup too long after its started drying, or the whole thing will just be really fucking bad. When that happens,
I like to share it with you
. In fact, some are terrible right out of the gate (I have a few projects I considered deleting from this blog but kept for a number of reasons), but its just fun to make something sometimes, even if it turns into a steaming pile of shit. At least you tried, and you can troubleshoot with your failures for future projects.
What kind of camera do you use?
All pictures are taken with my Canon Rebel T3, my iPhone, and if you're super lucky, you'll see one or two from my Macbook Photobooth. I'm very new to the DSLR world, and really only use it to take pictures of stuff for this blog because I'm too afraid to take it anywhere else for fear that I will either somehow fully submerge it in liquid or shatter it into one million pieces, so you are much more likely to see regular photo updates on my
Instagram
. (Haha I also feel like I got asked this question because if I have a nice camera, there is no excuse for pictures as shitty as mine. Photography does not come naturally to me, and lessons are on my list of things to do one of these days when I'm feeling less lazy.)
I'm coming to Chicago! What should I see / eat / do?
I love this question so much,
I wrote a whole guide to this magical city
.
Where else can I find you on the world wide webs?
Lucky for you, I'm creepin' on literally every corner of social media. Find me on:


Have more questions? Ask em here.