Do you ever start daydreaming about a project, and in your head you see the finished product, polished up and gleaming like it's the subject of a Domino Magazine spread?
That's what happened to me yesterday. I had completed the flower wall in the office, was riding a cheery decor high, and wanted to spread that to the kitchen, and I was going to do that by making my fridge yellow. In my mind I was like "It is going to tie together so well, it's totally going to be so adorable that every motherfucker is going to want to pin the shit out of it. YEAH DO IT MEG, IT WILL BE GREAT!"
Delusions of grandeur
Well, I started doing it. And once I had one roll of contact paper on, it was not so great. The technique was actually awesome, it went on clean and gripped the fridge without any bubbles but still let the weird fridge texture show through so it didn't look like a wrapped Christmas gift. However, the yellow boxy fridge with the black handles was looking less "fun pop of color!" and more "leftover prop from when they cancelled Blues Clues." Or like I actually had any pride in my
alma mater
.
I solicited friends' advice in case I was too close to the project and couldn't see it for the masterpiece that it was. However, they mostly confirmed that it was in fact really ugly. One person suggested going all out and making it a total pop art fridge, which would be awesome, but totally not my style.
I think I just need to slow it down for a minute. I'm in one of those moods lately where I'm like NOTHING ABOUT MY LIFE IS HOW I THOUGHT IT WOULD BE, EVERYONE ON FACEBOOK LOOKS HAPPIER AND MORE ACCOMPLISHED THAN ME, I NEED TO
DOOOOOO SOMETHING!!!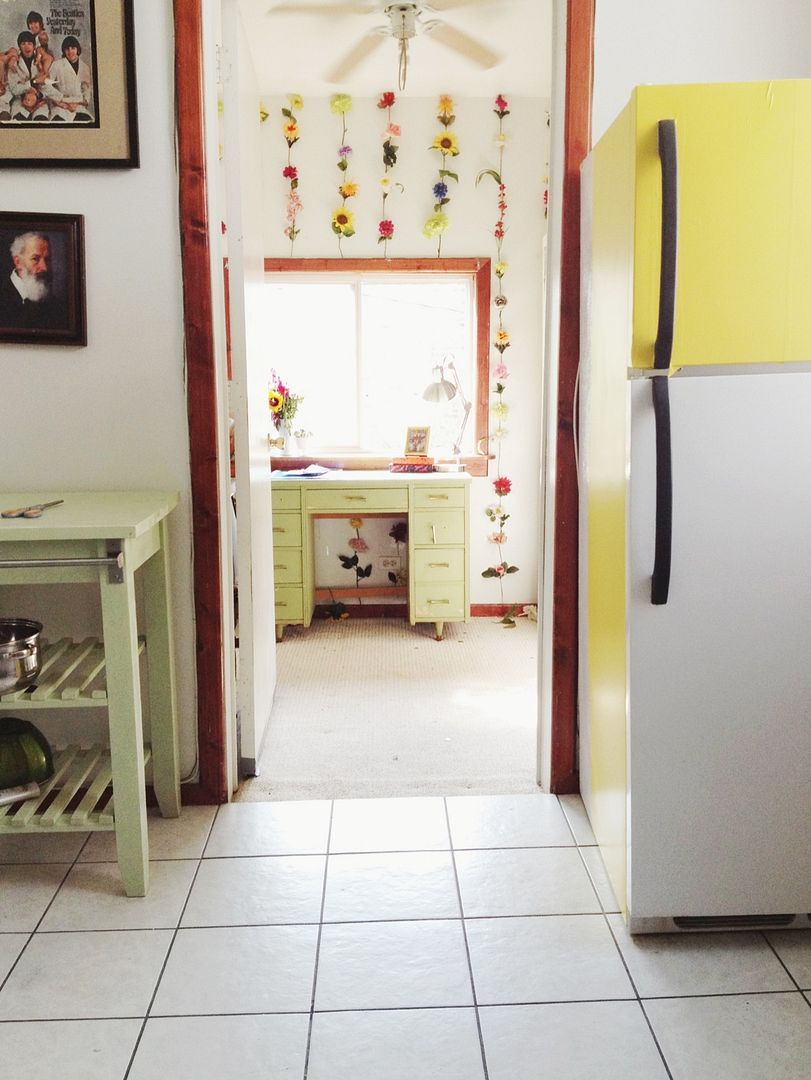 Can you at least kind of see what my head saw?? IT MADE SENSE AT THE TIME.
And while yes, it is true that working on projects distracts me and makes me happy, it also leaves me with a fucking hideous fridge. So maybe I'll take a break for a while and just cut my losses.
I hope you have enjoyed this hour of Bad Ideas with Radical Possibility. Goodnight and good luck.
xo,