I know that so many blogs are full of "product reviews" that are paid for by the company, so its hard to tell what people actually love and what is paying the bills. Full disclosure: I LOVE this Etsy, and that's all. Nothing was exchanged, except some creepy emails from me to the shop owner, fawning over her work.
One Sick Stitch
actually just opened this week, so you guys are getting in at the ground floor, but between when I started poking around and when this post went live, half of the inventory already sold! Apparently I'm not the only one in love. However, the shop owner, Maitri, has been working on new inventory and also takes custom orders.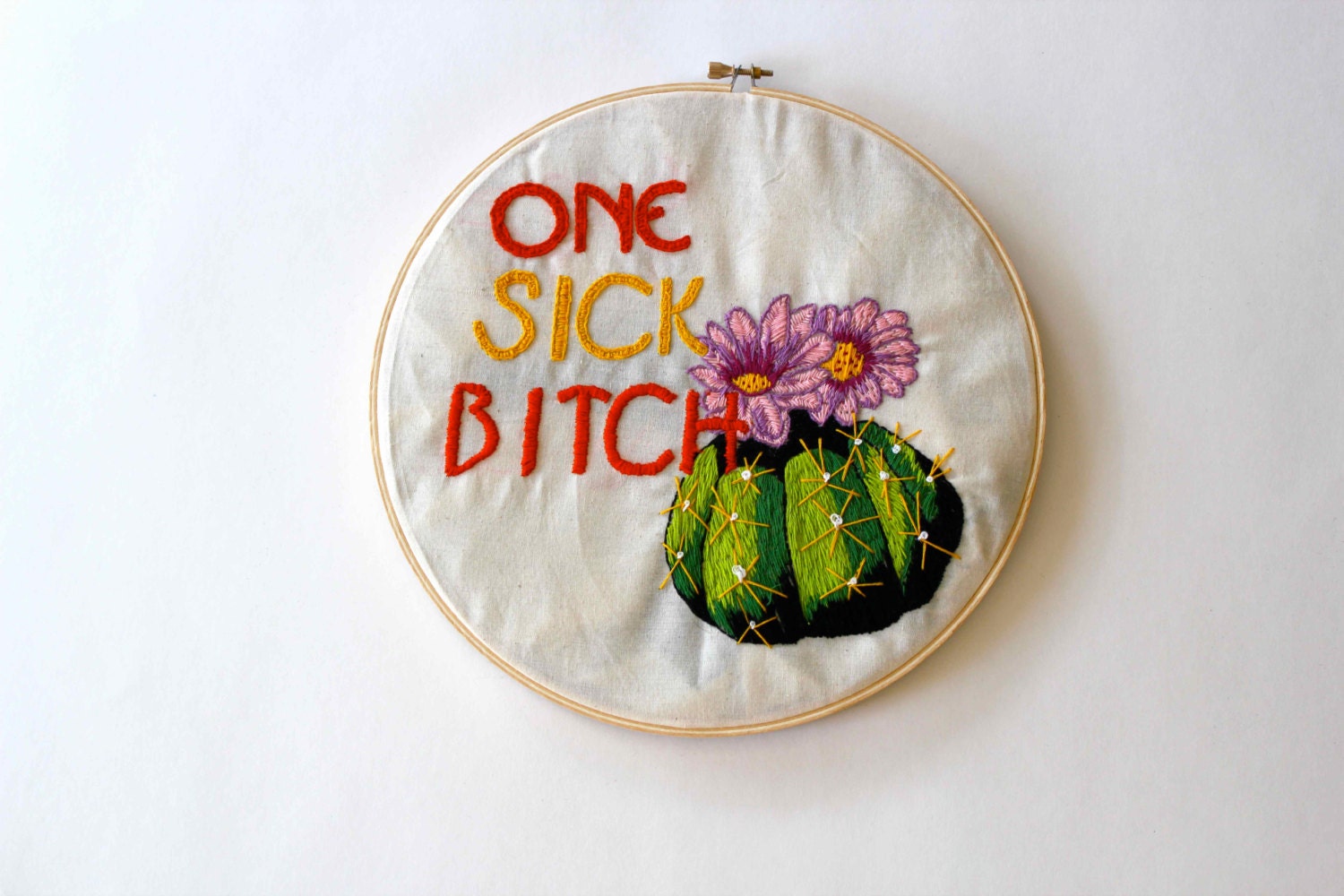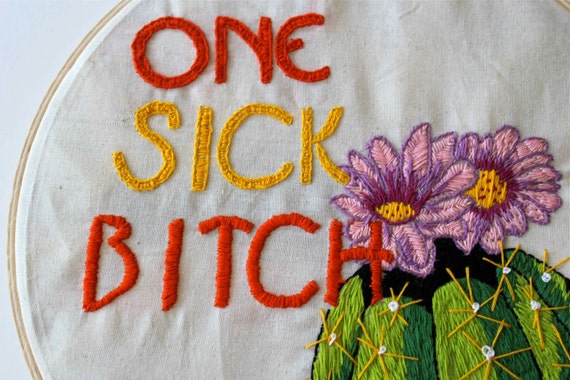 "I'm a desert gal so I feel a kinship with all cacti. The barrel cactus especially cause it's is one of the most dangerous. Truly a beautiful prickly plant that definitely says don't touch me, get away from me, goodbye"
I've been following Maitri on
Instagram
for ages, so I've been watching the progress of the pieces as she pulled her shop together, and was waiting for it to open, and it has not disappointed. I mean, just the quality of the pieces, and the colors, and the subjects, AHH I DIE. I love it all. Seriously, just poke around and even read the descriptions because they are biting and hilarious and perfect.
r/p: When did you start stitching? Why did you decide to pick it up?
Maitri:

I started stitching in January because I was going through a really, really rough patch. I am a writer (poet) first and foremost, but I have been stuck in such a rut for the past year that words haven't been coming to me and I needed another artistic outlet. I picked embroidery because it seemed cheap and relatively easy to teach yourself. Learning how to stitch is sooo soothing for me and really helps with my anxiety and allows me to get into an ~artistic headspace that I really missed with poetry, but it's also different in that it's not so cerebral. I'm really overwhelmed by the amount of positive feedback I've gotten on my stitching and it just feels really good to put art out into the world :)
January. Fucking five months and she's at this level. This is why I really think this is an Etsy to Watch. Like I said, though the inventory goes quickly, she does take custom orders, such as the bug collar she is wearing in the picture above.
And I have to end with my very favorite, "Reversing the Gaze":

xo,
z

Again, this post was not a perked one. No discount was given, no money or product exchanged. Once in a while I just come across a small business that is fucking great and deserves people looking at and admiring their hard work.