So I'm warning you now, you're about to see some janky ass photos of my bathroom. In the spirit of keeping it real, I am showing you true Befores. Like, not safe for life. We were slowly making our way through the apartment, kind of going room by room decorating and getting settled. The kitchen and bathroom are so outdated, with ugly tile and stained floors and peeling linoleum and walls that are so dingy...ugh they are the worst.
So rather than put even more effort into the bathroom to make it better, we just treated it like the redheaded stepchild of the apartment. It got the old, ugly shelf that I didn't want to display anywhere else, the cheapest tension rod from the hardware store, an old storage space rug instead of a bathmat. Storage was an issue, but rather than figure out real solutions, I just threw shit in tupperwares and called it a day. So what you're about to see is just real life of two people who need to clean their bathroom more. I do wish I had at least taken out the garbage, which is piled with what seems to be three years worth of face wipes and Valley of the Dolls pill bottles strewn about.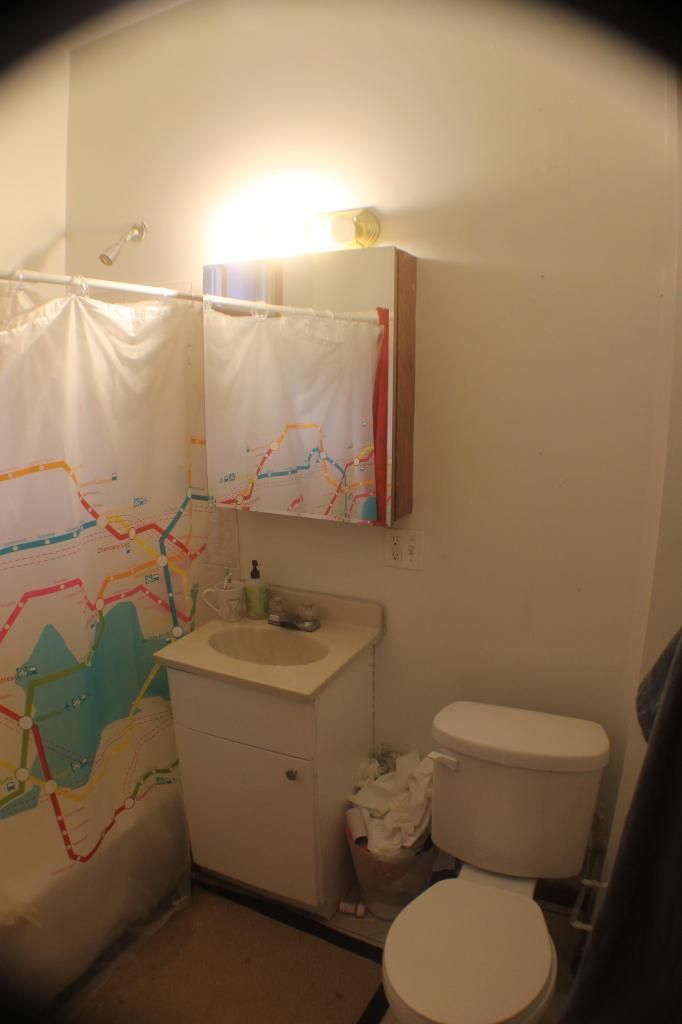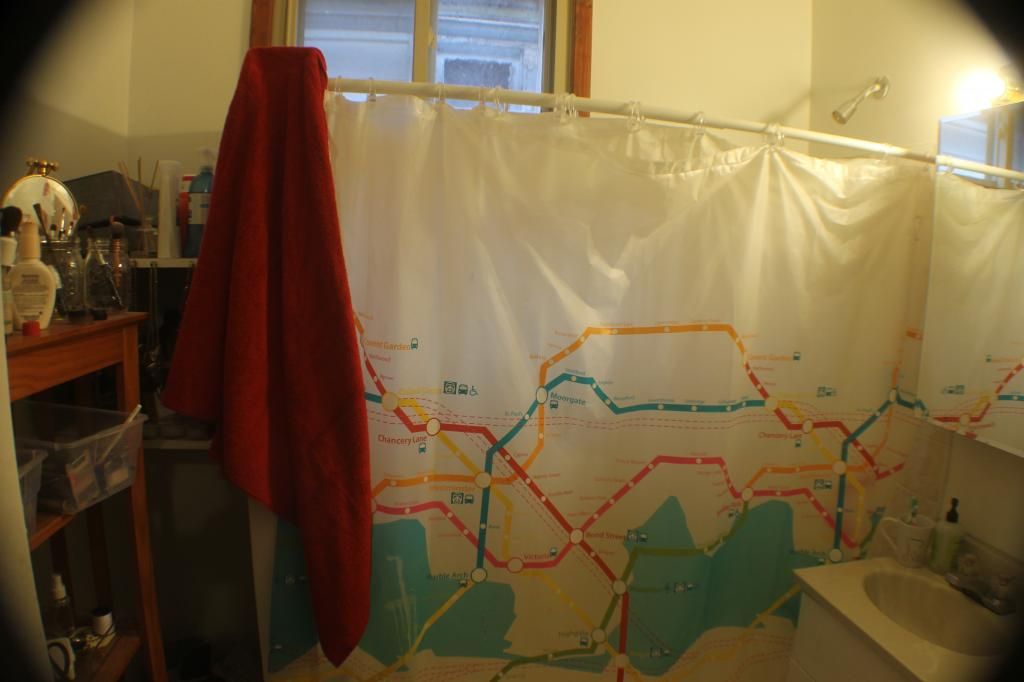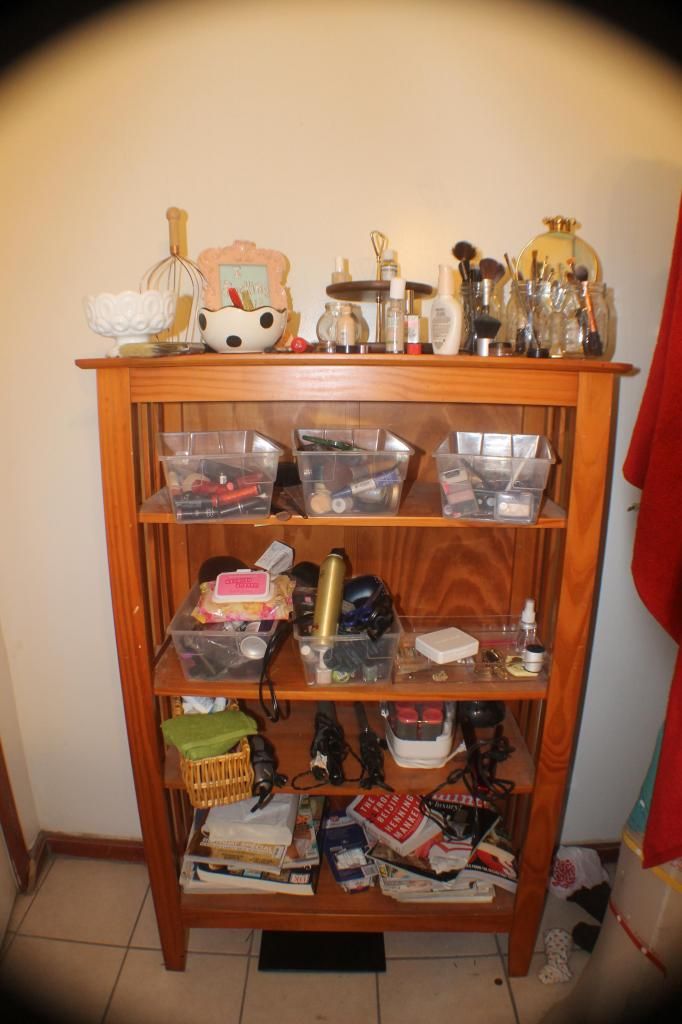 To be fair, I took these on an ESPECIALLY bad day, because that was the day I decided I just could not do this anymore, and it was time for a bathroom overhaul. Normally it was really ugly, but not quite in this state of chaos.
Aaaaaaahhh
First step was taking out that trash. Next, I replaced all the mismatched bulbs with nice round bulbs. The medicine cabinet got a quick hit of black acrylic paint I had lying around. The space above the toilet got a small shelf a friend gave me from Urban Outfitters, and a Guided By Voices print in a thrift store frame repurposed from when
the gallery wall came down
. An
Ikea mirror
was added to the medicine cabinet too, for days when I feel like obsessing over whether or not my wrinkles are deeper today than they were yesterday.
The most dramatic change was the installation of a new shower curtain. Instead of the tension rod that fell on us once a week while we were showering, we installed a piece of piping instead. Hanging it nearly at the ceiling, and going from wall to wall, really makes the room feel MUCH bigger than the short, stumpy one we were working with before. It also hides the storage space next to the shower, which is helpful so that people don't have to see my excessive amount of hair products or our dirty laundry hamper. We installed it the exact same way
we did the corner closet in the guest room
, but this time we didn't have to use elbow joints. The pipe is 86", and was $11 at Home Depot. The shower curtains (yep, plural, since two were needed to go wall-to-wall) are extra-long shower curtains from Amazon for $13 a piece.
That monstrosity of a shelf up there got a few coats of white paint, so now it looks a little less like the shelf my old neighbor left in the hallway when he moved out (thanks, Steve!), and a little more like we actually want it in our house. The clear tupperware unfortunately just showcased the disorganization of my makeup (yep, that's makeup filling up all of those. I have a problem), so instead I bought a cheap set of vinyl black storage containers from Ikea to organize everything.
Jewelry gets sorted in little green dishes from the thrift store, and all makeup brushes are living in mason jars on a "cake stand" (aka a plate glued to a candlestick, again from the thrift store.) The print is one of my favorite LCD Soundsystem songs, so I just typed it out in Word and had it printed on an Engineering Print (
my favorite!
) over at Staples before throwing it in a $7 frame from Joanns. (
Update: I forgot I still had the original image! You can save this and upload it to Staples.com to print yourself! I got the smallest size, 18x24, which normally runs about $1.50)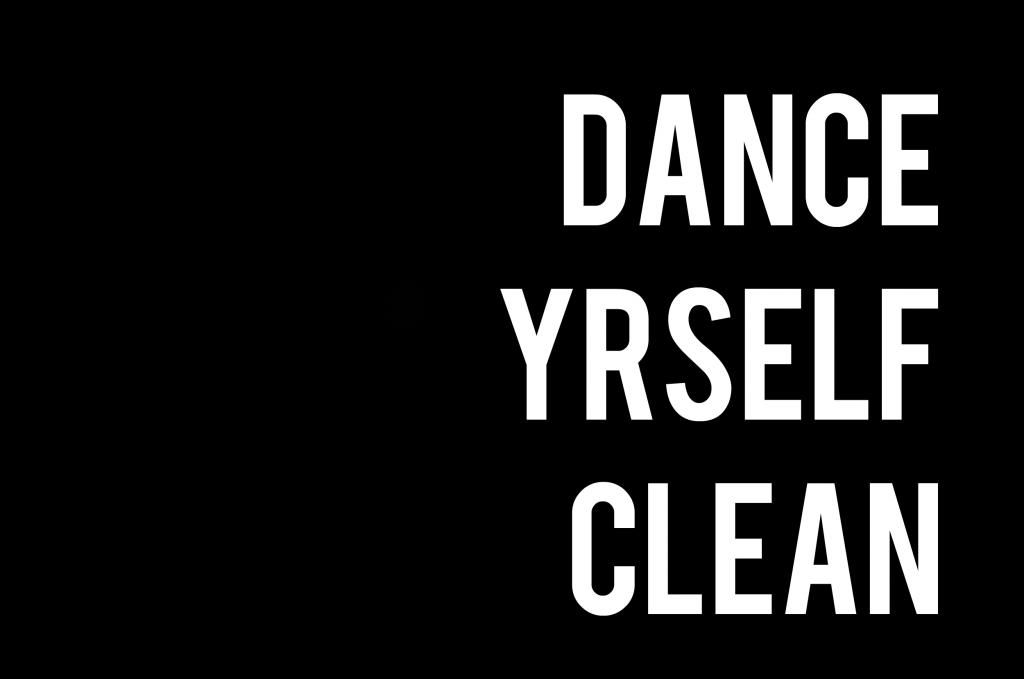 Because everyone loves a good old fashioned budget breakdown:
Pipe shower curtain - $11
Flanges to attach to wall - $7 for two
New extra-long shower curtains
- $26 for 2
Extra long shower curtain liner
- $8
Ikea FRACK mirror
- $5
New lightbulbs - $3
Frame and print - $0 (already owned)
Black Paint - $0 (already owned)
White paint for shelving unit - $0 (already owned, used Rustoleum Paint+Primer Spray Paint)
Ikea SKUBB boxes - $8
Green dishes - $1 for 3
"Cake Stand" - $1.50 ($1 for the candlestick, $.50 for the plate)
Dance Yrself Clean print - Free (they messed up my order three times, so I got it comped!)
Frame - $7
Total: $77.50
It's a little bit more than we usually spend on room face lifts, but fuck if it didn't need it so bad. For around $75, I feel like we were able to spin the room into something a little less....disgusting. Granted, just the act of cleaning it up helped too, but hey, I got more dramatic before-and-afters from our slothfulness, so just go with it.
xo,
z