Andy and I just resigned our lease the other day (no rent increase, heyooo!), which made me realize we have only lived in this apartment ten months. I have been getting so frustrated and restless with it lately, mad that it isn't
quite
the way I want it, that there are walls still blank, boxes still not unpacked, and things of that nature. I know logically that to make a house a home takes time; when rushed it looks cold and impersonal, but when you take your time you temporarily live in rooms that feel bare and unsettled.
Our bedroom has been the bane of my existence. It is L-shaped, which makes zero sense, and only measures 7x9 (not counting the space lost to the L). Its juuuust big enough for a queen bed, and one other piece of furniture (we've rotated out a few nightstands, shelves, dressers), and even then one of us still has to roll over the other to get out of bed in the morning.
One sad little end table, (
that would later get a gold makeover
!), two small frames that are dwarfed by the big empty wall, and completely disproportionate to the space, and one mismatched inherited lampshade with a thrift store base.
I didn't even have a duvet cover yet! This bothered everyone, except Lucille.
So, some changes were made. First up, I bought a larger piece for the wall (the wonderful, wonderful Stendig calendar, which I actually remembered to buy before they sold out this year). I bought a new quilt to use instead of the increasingly pitiful down comforter I had before, and I brought the dresser out of the closet and threw an old bookshelf in there for added storage. The lamp stayed the same, but I took fabric paint to the red trim of the shade to make it black to match the calendar and go better with the gray base. I also bought a new curtain, but because I'm terrible at measuring/blogging/life, its way too short and I didn't even iron out the packaging folds. Baby steps people, I never said I was good at this. I did buy some muslin though so I could make more of my $3 curtains that I you may remember from the living room:
You can see the curtain length a bit better in this shot. They went up in a haste because the once-abandoned house next door was bought seemingly overnight, and my bedroom window that let light in but without anyone seeing in was suddenly compromised when I woke up in just a bra and saw three construction workers demoing the place next door, with a clear line of vision. So that was cool.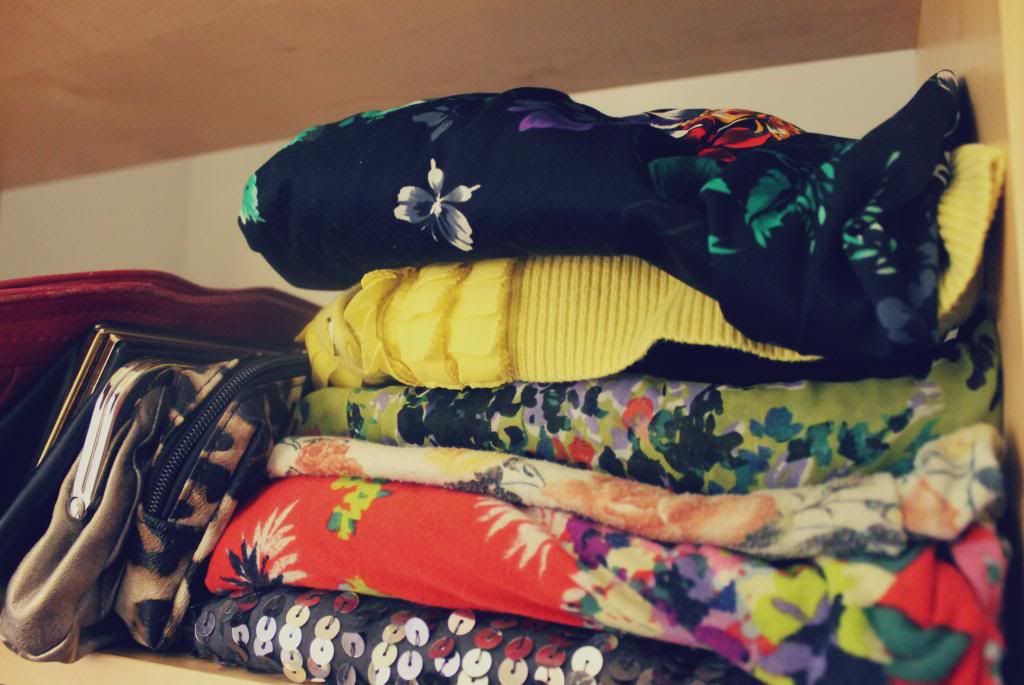 It took ten months (and actually, three other failed layouts of the bedroom that were never photographed), and a complete overhaul of the room's contents, but it feels like things are finally getting to a good place. I need to learn to just take my time, and not stress too badly about rooms not being picture perfect at the first shot. My new year's resolution this year was to remember that comparison is the thief of joy, and part of that means not looking at million-dollar homes on Apartment Therapy and Pinterest and wondering why my very cheap apartment doesn't look like that after only a few months.
Also, for helping Radical Possibility have a fantastic year (well, eight months but its January so shut up and be festive) here is a picture of my dog kissing a baby. Thank you for all your likes, your repins, your support, and helping r/p clear the year with 1.5 million views. I died when I saw that, died I tell you.
And a little new year's reminder to find Radical Possibility on
Facebook
,
Instagram
, and
Pinterest
. I'm also on Twitter and YouTube and all that crap because people say good bloggers are supposed to be, but I don't use those quite as much. If you want to follow them anyways, all links are <<<<< in that sidebar over there.
xo, and the happiest new year to you,
z