As I've made
pretty clear on this blog before
, I love painting shit with nail polish. It goes on smooth, dries hard and shiny, lasts forever, and is an easy update for items you're tiring of.
Today I'm updating an older pair of glasses. I have a shitload of glasses. Thanks to cheap sites like Coastal Contacts and Zenni Optical, I always manage to snag sets of glasses (frames and lenses) for around $10, so I've stocked up.
I had bought a pair of
Derek Cardigan clubmaster-style glasses
from Coastal, that I liked the style of but realized after I bought them that I already had three pairs of tortie glasses, and the pattern doesn't even look all that good on me.
But hey, at least the shape itself is cute/makes me feel like I should be a part of the Watergate scandal. Before today's post even happened, I had actually already painted them once:
I painted them with a liquid gold-leafing that was an absolutely beautiful color, but was totally not made for this. After about 5-10 wears, it started to flake off.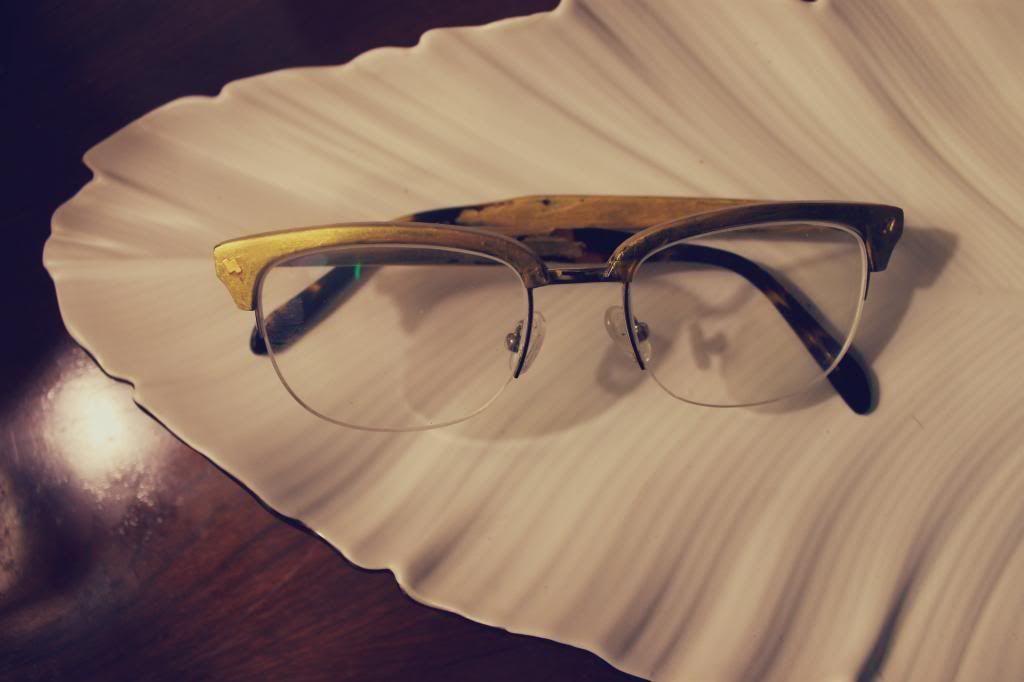 Not to say that it didn't stop me from wearing them. In fact, it took until one Saturday night when I was bored and losing my mind from spending NINE STRAIGHT HOURS watching The West Wing on Netflix (omg if you're watching it, lets talk about it in the comments or something because I can't stop won't stop, I'm this close to writing "I <3 Josh Lyman" all over my notebooks). Anyways, nine hours, gone mad, needed a diversion. Stay on track, would you?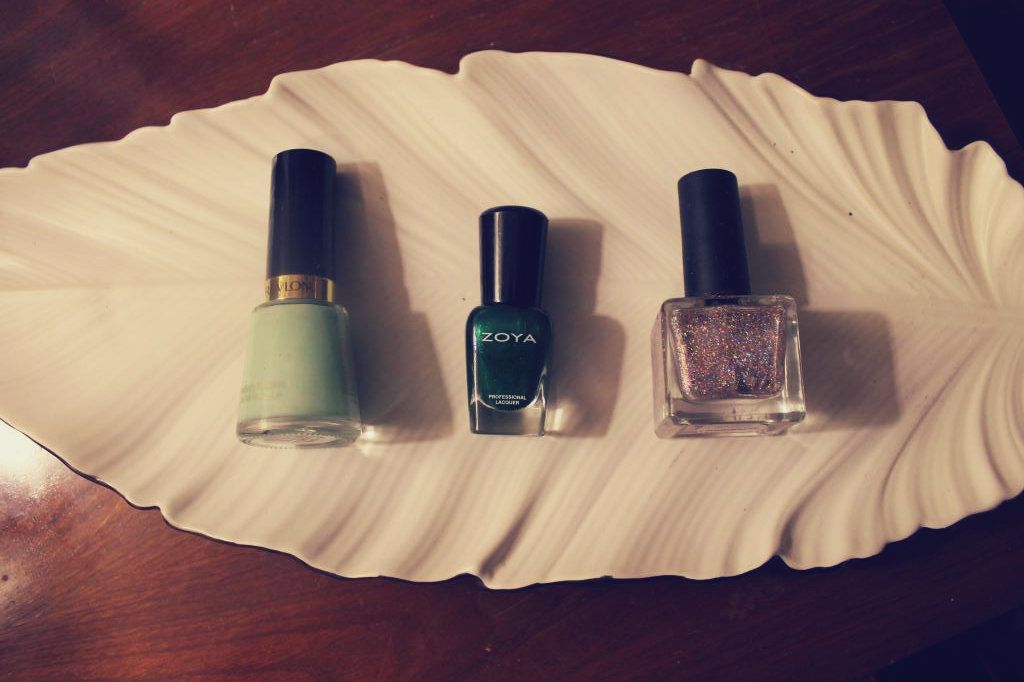 I picked out a few good colors from my nail polish collection to kick things off. One soft and subtle, one bright and poppy, one fucking crazy.
I swiped a line of each on the arm of the glasses to test them out. For the record, we're looking at (L-R) Revlon Minted, Zoya Holly, Urban Outfitters Afterhours.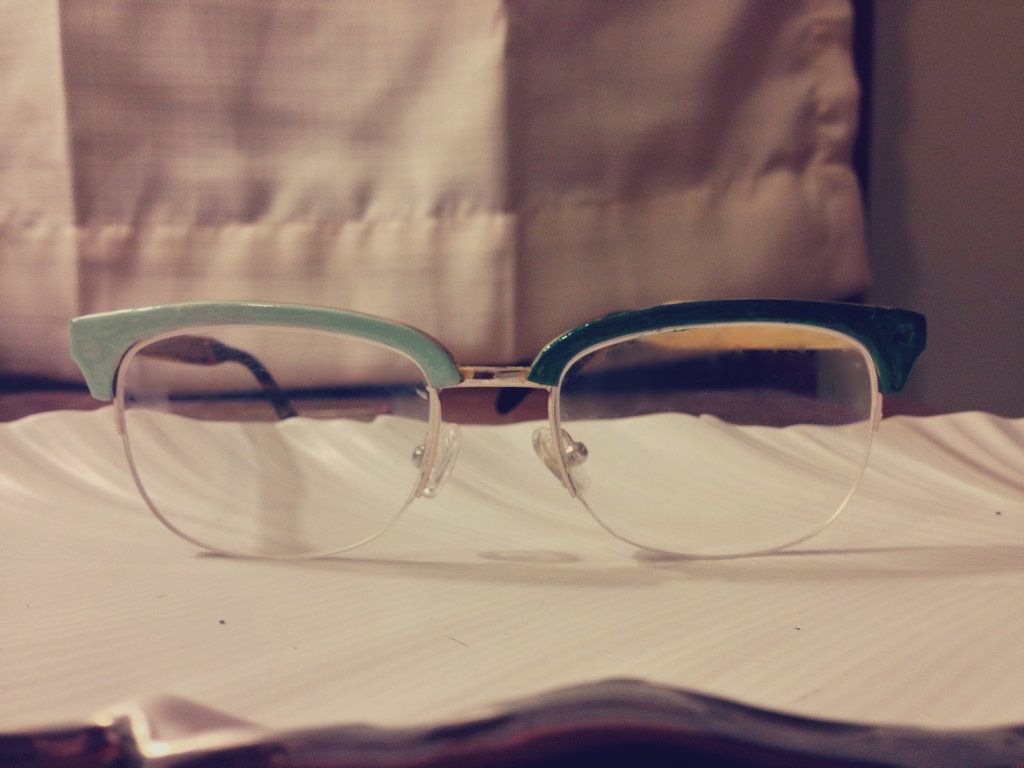 I had to immediately rule out the glitter, because 1.) it was just too fucking crazy, and 2.) it would have required a million coats. However, I couldn't choose between emerald and mint. A quick poll on
Instagram
confirmed my instincts, and I went mint.
From there, it's pretty easy: just paint your glasses. The brush that comes in a thing of nail polish is small enough to get into all the tiny corners just fine. It will take a few coats, so it's not all that different from actually painting your nails.When I was done, I hit it with a coat of Sally Hansen topcoat in case that makes it last longer or something, I don't know. Just go with it. Mine took three coats for a nice coverage, and even people I've told about my nail polish trick were surprised to hear that, because the finish is great. Part of the reason I did this is because last time I wore the gold ones, someone asked "Are those a diy project?", which is the worst. DIY should never look DIY.
The funny thing is, Revlon Minted is a terrible polish. The one time I attempted to use it on my fingers, it went on too thick, and chipped within a few hours of less-than-strenuous internetting. However, as I've learned with other nail polish crafts, polish thats absolute crap on the nails can actually be really good for stuff like this. Its nice to have the money from impulse buys not go to waste!
Also, as you may have noticed from this picture, I'm blonde now! This is closer to my natural color, or so I'd assume, since I haven't really seen it since Clinton was president. I did it at home, in one night, without going bald or turning my head orange, which I will take as a sign that there is a god and (s)he wants me to look cute. I'll do a post on that later, as long as none of you promise to take it as gospel since, well, it really is surprising that I didn't go bald.
xo,
z