No specific project for you today, just a few odds and ends that I wanted to share to kick off this weekend!
I'm a sucker for all-girl/pro-girl stuff, so when I found
Least Likely
, I was pretty jazzed. It's a blog in the style of Hello Giggles or Jezebel, kind of all-topic, with an overarching feminist theme. However, because they don't have any corporate sponsors to answer to, its a lot more real, but somehow manages to be on-point and cohesive and not rambly and all over the place.
This weekend I am taking a wood working class! I read so many other DIY blogs where I cannot figure out how the fuck everyone is so good at making shit that doesn't fall apart. I couldn't even hang shelves in my living room. Not joking, they are up, but they are not flush against the wall and I can't figure out how to fix that, so they are just leaning out, and shit rolls off them.This is my life. Anyways, this class is at a place called the
Rebuilding Exchange,
where they take total goons and give them power tools. I'm making a mirror:
This is the only picture they feature, but I think you get the idea. Everyone cross your fingers that it meets a better fate than my shelves. I'll try to sneak some pictures and tell you guys about it, but I'm super awkward about taking pictures, and I'm not sure if having my phone out all the time is a safety hazard/would cause me to lose a thumb.
This has been my life the past few nights. Like, I was laying on my couch yesterday when I took this Instagram (u/n - radicalpossibility) wondering if I could make a post out of pumpkin beers, my favorite fall candles, fall cocktails, etc. Then I realized that just kind of made me a lazy drunk, but one that smells so sweetly of Crisp Apple Pumpkin Spice by Glade. If you look alllllll the way back (thank you, long Chicago apartments) you can see that my office is a shit show. This weekend, that will hopefully all change, and I WILL blog about that, but that is going to require me showing you the "before", which is going to take some pride-swallowing.
I'll report back with if I lose any thumbs and if I can actually make it so that you can see the floors of my office, but until then, here's a quick little recipe card I made for my kitchen that goes hand in hand with that drinking I was just talking about...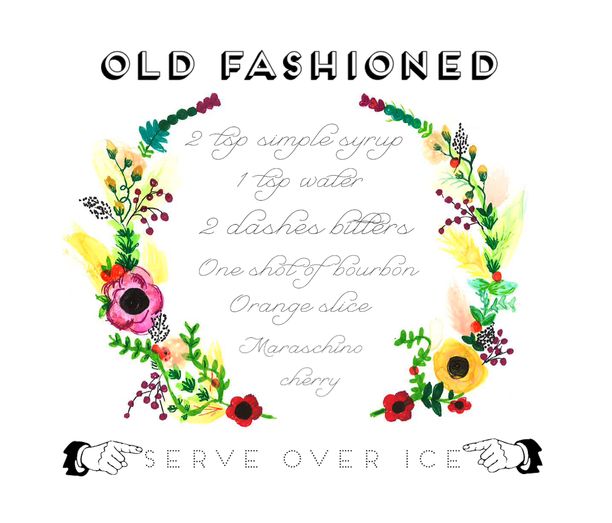 xo,
z