So my front steps used to be this weird wasteland pile of coats and buckets of shoes with no rhyme or reason, and this sad little table to anchor it all, so I decided to bring out an extra dresser we had in storage to be a landing zone and to use the surface to display some stuff that was previously tucked away.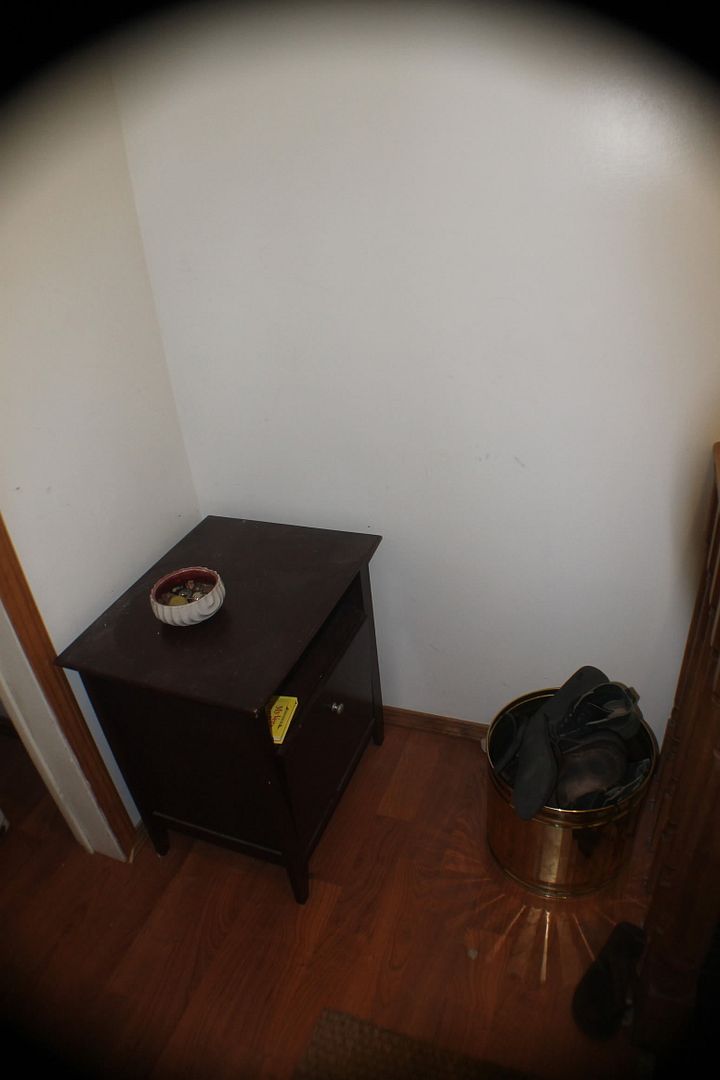 After getting that all set up, things were looking significantly better, and the drawers provided a neat place for all umbrellas and gloves and miscellaneous things that come home and tend to pile up.
However, because nothing is complete to me until I've piled more on (minimalism is overrated), I started looking for some things to fill the blank walls of the foyer. I took some pictures of some of the options, but can't find my memory card, so I'll just sum them up for you to create your own visual - They all looked like shit.
But then, I saw on
A Beautiful Mess
that printing places do these things called
Engineering Prints
(sometimes called Blueprint Copies), which is where they take small photos and make them fucking huge. They did it with family photos, but my family seems to be void of any cutesy photos of them at the beach in old-timey swimsuits, so it was time to troll the internet and steal some photos.
There is this one Pierre Joseph-Redoute picture that has been my desktop background for ages, that I just love that I thought might work for this project since it doesn't contain a lot of fine details and the colors aren't a necessary component. For instance, doing this with the four Warhols of Marilyn might not have the impact you're looking for, but maybe doing this Rothko could also be quite nice:
In the original tutorial I found, they went through Kinkos, but when I went to the Kinko's site, it was way too confusing. I couldn't figure out how to upload things, and it looked like you would have to go in-store to do large prints, and what was way more human interaction than I was looking for. Luckily,
Staples' website
was crystal clear.
I uploaded my picture
, scaled it, and paid for it in under five minutes.
The best part? It was less than $7.
I worried that going from such a small picture to such a large print would leave it grainy and pixelated, but it's actually not at all. It's not razor sharp quality, but instead of being pixelated, it just looks like it was run through a copy machine, which I don't mind, it actually played up a lot of the shadows. Also, depending on the size of your print, you may end up with some white borders to trim off (mine wasn't perfectly proportional to the size I printed, so I had different-sized white borders on three sides, which I trimmed off.)
This picture kind of shows how massive of a print $7 can buy you. I went with the 36x48.
So then I went to hang it up in the entry way, using a gold tack on each corner to pin it up. I could have taped it, but I really liked the contrast of the gold with the dark print. Turns out, I liked it so much, I decided to add about 60 more tacks to do a framed border of sorts.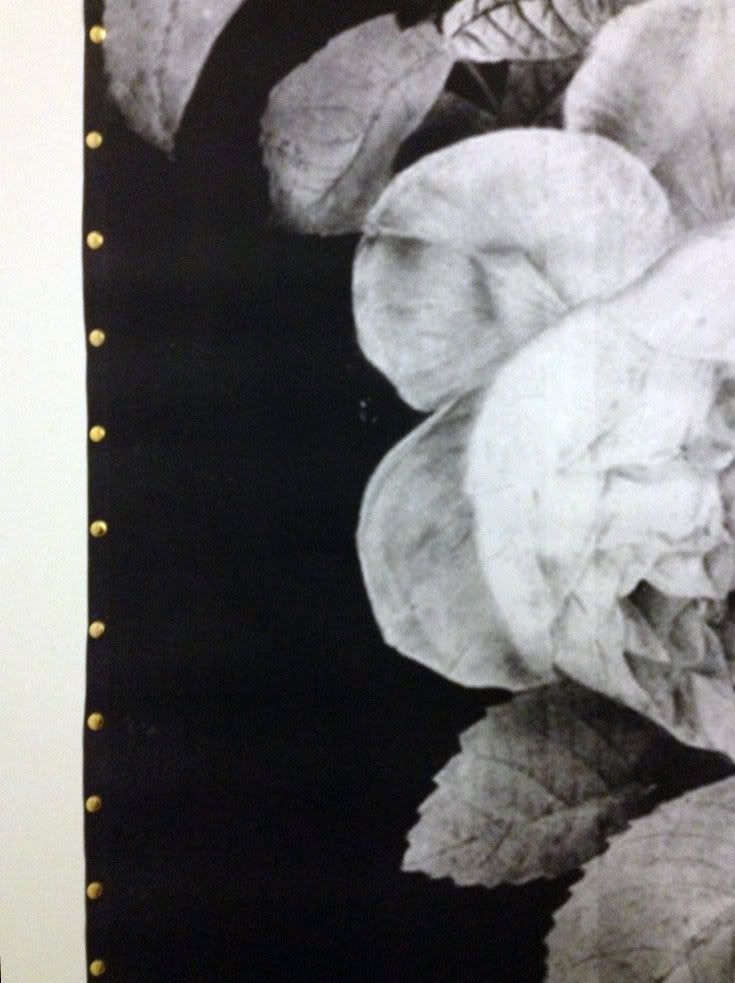 Sorry for the shitty quality of some of these pictures. I went to go take some with my dslr, but the battery was dead. I put a few teaser shots on Instagram (u/n – megzandi) yesterday and ended up promising people I'd put this tutorial up today.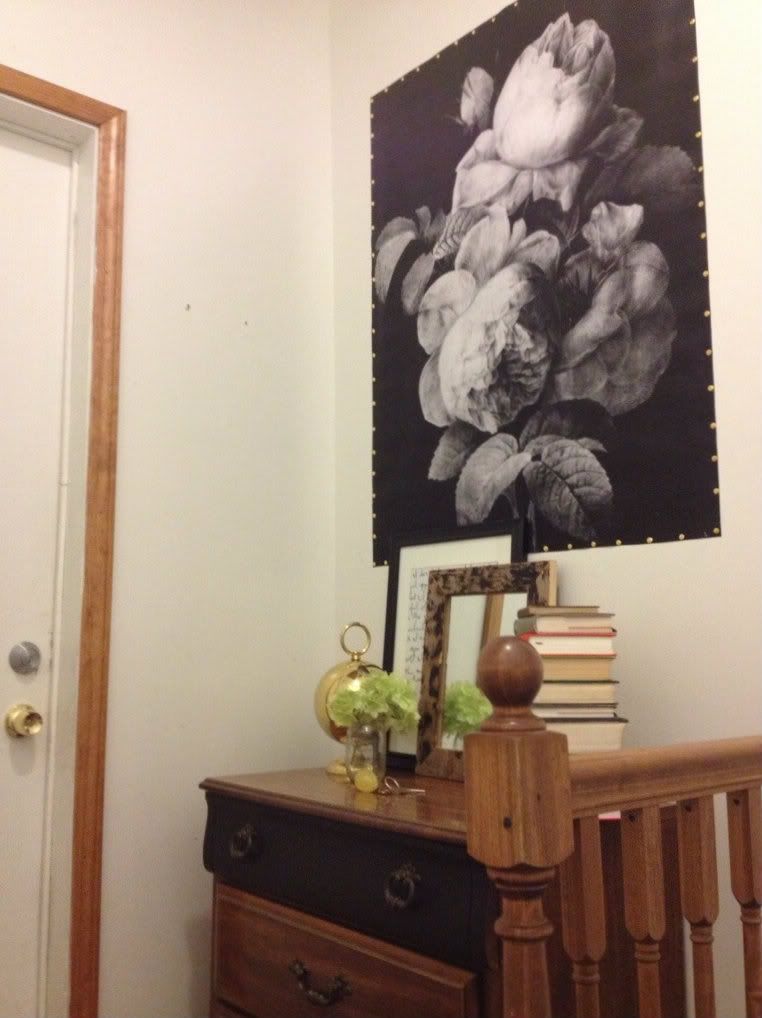 Also, its really freaking hard to photograph a space with 11 foot ceilings but is only three feet wide.
A few people also asked if there was any issues with copyrights, since this print is obviously not my own work. This is where I tell you to respect all copyrights and follow federal and local laws, BUT I can tell you that in sending something in for print online and picking up in store, I ran into zero issues.
Do you already have a photo or print in mind that you're considering doing for this project? Any other questions on the whole process?
xo,
z