We've only lived in this apartment for about six months and I'm already starting to get a little restless, almost like I want to change things up by redecorating entirely. Since that is not responsible or feasible, I've taken to just doing small changes throughout.
A lot of our home is very neutral toned, very calming. That's awesome, but I still wanted a very low-commitment way to add a pop of color. Today we're bringing it to the main entryway by painting the inner rim of the door.
The first step is to use painter's tape to tape off the sides of the door. (Step 1.5 is ignoring how messy my hallway entrance is. Very important step, don't skip it.) I decided to only paint the side, not the top or the bottom because you'd have to be either half an inch tall or 8 feet tall to see either of those parts of the door. My apologies for clearly ignoring those populations in this project.
I used one long piece of tape for each side of the door, but if its easier for you to get a clean line working in smaller sections, go for it.
Next I started painting, just using whatever brush I had that was large enough and some Blick acrylic paint.
Each coat takes about 3-4 minutes, and I ended up needing two coats + spot touchups.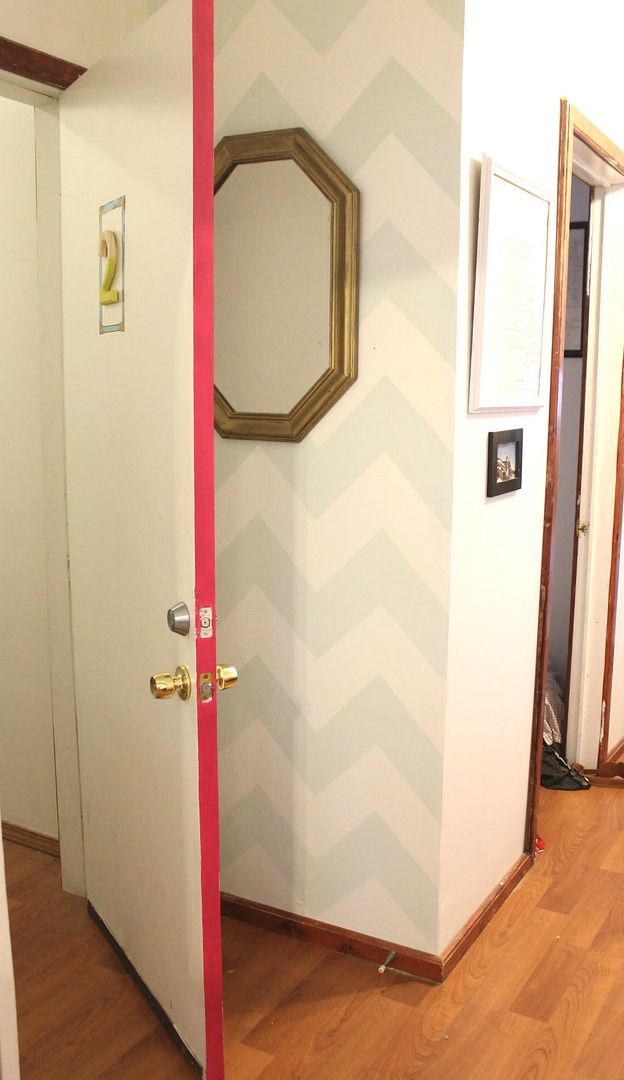 Its nice because the door isn't open all that often, so its just a little brightness every now and again. Sometimes I think it might get *too* bright, in which case I may paint it a more muted color, like in this incredibly professional photoshop rendition:
Who knows? At ten minutes total for the whole project, this little door may go through the rainbow before we get to the end of the year.
xo,